We offer an assortment of radon mitigation products including radon fans, Dranjers and continuous digital radon monitors as well as certified e-perm devices.
Mitigation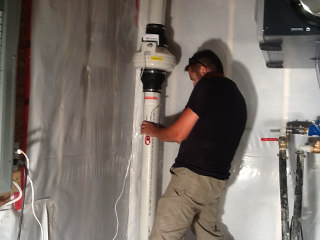 RadonProz is knowledgable about what system is right for your home. RadonProz uses products which exceed todays building code requirements. RadonProz also uses fans that come with some of the best warranties available in the industry. RadonProz effectively reduces radon levels in your home or office and ensures that all systems installed are appropriately sized to keep energy costs to a minimum. The average energy cost to run your Radon Mitigation system can be as low as $11 per year.
Testing and Sales
RadonProz stocks certified e-perm devices. All test results are handled by Pinchin Ltd., a third-party testing company, to ensure unbiased, accurate results.